Certificate in Digital Creative Content is designed to produce creative and innovative digital content creators. This programme prepares students for content entrepreneurship and helps them to thrive in the digital content frontier.
Students will acquire strong communication, basic art and design, entrepreneurial, information and communication technology, and creative content creation skills which will enable them to excel in the digitalised world.
Interactive Digital Media emphasises on technical competence, diversity of thought, exploration and an interdisciplinary approach, creating a culture of risk-taking, problem solving and teamwork.
Entry Requirements
SPM / O-Level
Pass with minimum 1 credit
UEC
Pass with a minimum of 1 B
Other Qualifications
On a case-by-case basis
Specific Requirement
Pass a Portfolio review or an interview
Programme Structure
Multimedia
Basic Arts and Design
Basic Drawing
Fundamental of Visual Design
Introduction to Animation
Information Communication Technology
Basic Computing
Web Content
Communication & Media Studies
Visual Communication
Basic Photography
Basic Graphic Communication
Basic Video Production
English for Digital Media
Contemporary Issues in Digital Content
Emerging of Digital Media
Creative Content
Creative Thinking
Foundation of Creative Content
Creative Content Writing
Creative Contentpreneurship Globalisation & Contemporary Issues
General Studies Subjects
Malaysian and International students are required to pass the MOHE General Studies subjects
For Local students:
Malaysian Studies 2
Creativity & Innovative Thinking Skills
Moral Education / Islamic Education
Community Service
Bahasa Kebangsaan A (applicable to students who did not sit for SPM or did not obtain a Credit in SPM Bahasa Melayu)
For International students:
Bahasa Melayu Komunikasi 1
Creativity & Innovative Thinking Skills
Moral Education / Islamic Studies
Community Service
Soft Skills Subject
English for Digital Media
Progression Pathway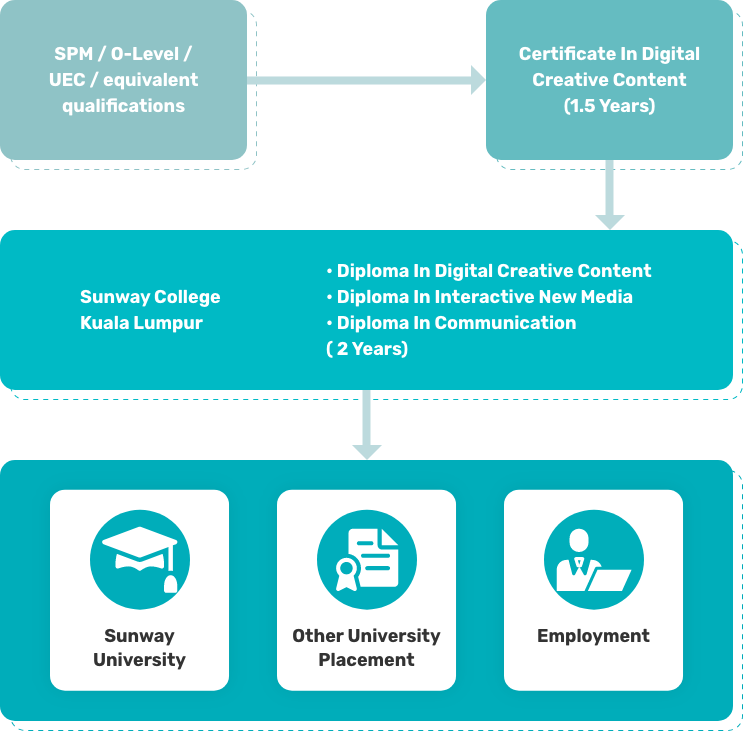 For admissions enquiry, contact our education counsellors
Explore Other Programmes