The ACCA Foundation In Accountancy (ACCA FIA) is a vocational qualification designed by ACCA that will allow you to support the work of professional accountants.  The final-level examinations are equivalent in standard to the first year of a university degree programme. Consequently, ACCA FIA graduates are allowed to move directly to Fundamentals Level (Skills Module).
The knowledge, skills and practical experience you have gained while studying the ACCA FIA qualification can exempt you from certain papers and count towards the practical experience requirement of the ACCA Qualification.
There are seven examinations to the ACCA FIA. Each level is designed to test the knowledge, skills and understanding needed to work in accounting support roles. 
The ACCA FIA qualification could be your steppingstone to the ACCA Qualification and membership of the global body for professional accountants.
 
Entry Requirements
Academic Requirements
SPM / O-Level or equivalent
5Cs (including English and Mathematics)
UEC
3Bs (including English and Mathematics)
English Language Requirements
TOEFL
550 paperbased, 213 computerbased, 80 internet-based
IELTS
6.0
MUET
Band 4
SPM English
C
UEC English
B6
O-Level English (1119)
Credit
Programme Structure
ACCA Foundation In Accountancy Programme Syllabus
Recording Financial Transactions
Management Information
Maintaining Financial Records
Managing Costs and Finances
Business and Technology
Management Accounting
Financial Accounting
College Subjects
Financial Planning
Regulations and Professional Ethics
Progression Pathway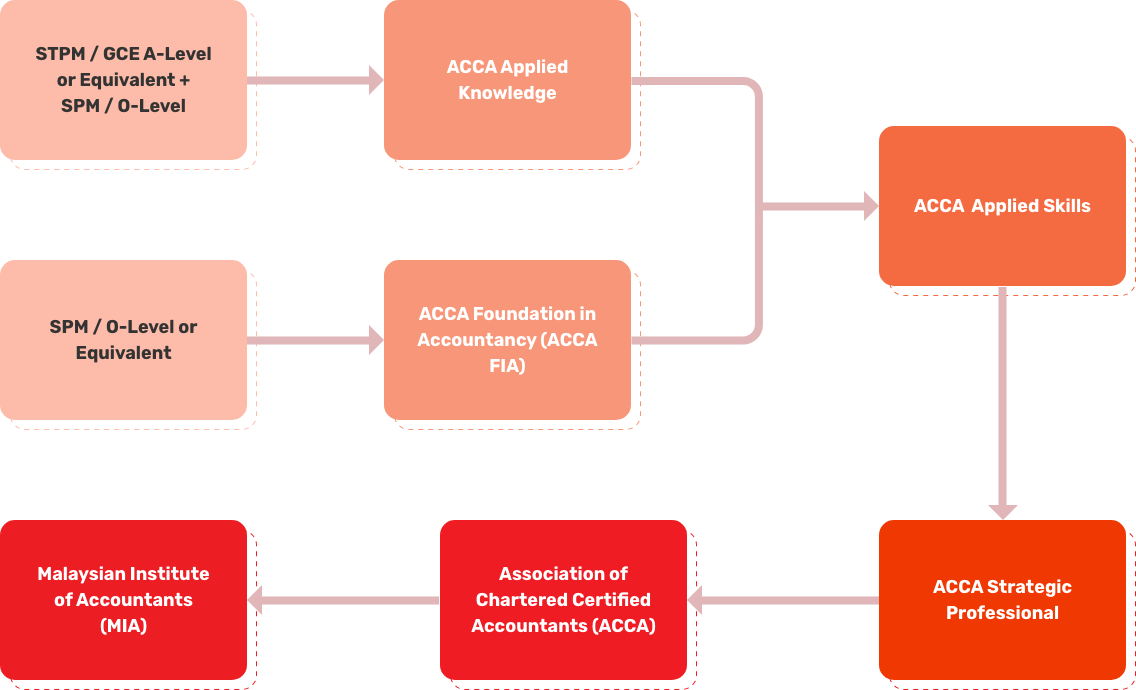 Career Prospects
ACCA FIA graduates will be able to support Financial Managers in any type of business, both locally and internationally.
Scholarships
Scholarships and Bursaries
The following scholarships & bursaries are available for this programme:
Student can also apply for the following financial aids:
For admissions enquiry, contact our education counsellors
Explore Other Programmes