Intakes
January, April & August 
In a competitive business environment, professionals and executives are required to possess essential business skills, knowledge and understanding in order to excel in the ever-changing business world. Sunway College's Certificate in Business Studies programme aims to prepare students for such environment. It also equips students with the basic knowledge and skillsets needed in the field of business administration.
Students will acquire strong communication, basic business technical, entrepreneurial, life and career, and information technology skills which will enable them to solve business-related problems.
Students will be able to gain the necessary skills through the provided exposure in the areas of Business Administration such as Marketing, Management, Economics, and Basic Accounting.
Studying at Sunway College campus offers students a modern learning environment that will enable students to achieve their aspirations.
 
Entry Requirements
Entry Requirements
SPM / O-Level
Pass with a minimum 1 credit
UEC
Pass with a minimum 1 B
Other Qualifications
On a case-by-case basis
Programme Structure
Accounting & Finance
Book Keeping
Business Accounting
Business Finance
Management and Law
Management Basics
Introduction to International Business & Business Ethics
Human Resources & Law
Introduction to Entrepreneurship
Marketing and IT
Computer Applications for Business
Introduction to Marketing
Management Information System
New Media in Digital World
Economics and Mathematics
Essentials of Business Mathematics
Principles of Economics
Fundamentals of Probability and Statistics
General Studies Subjects
Malaysian and International students are required to pass the MOHE General Studies subjects
For Local students:
Study Skills for Higher Learning/Bahasa Kebangsaan
Pengajian Malaysia I
Globalisation and Contemporary Issues
For International students:
Study Skills for Higher Learning
Bahasa Melayu Komunikasi
Globalisation and Contemporary Issues
Soft Skills Subjects
Introduction to Business English I
Introduction to Business English 2
Business Communication
Progression Pathway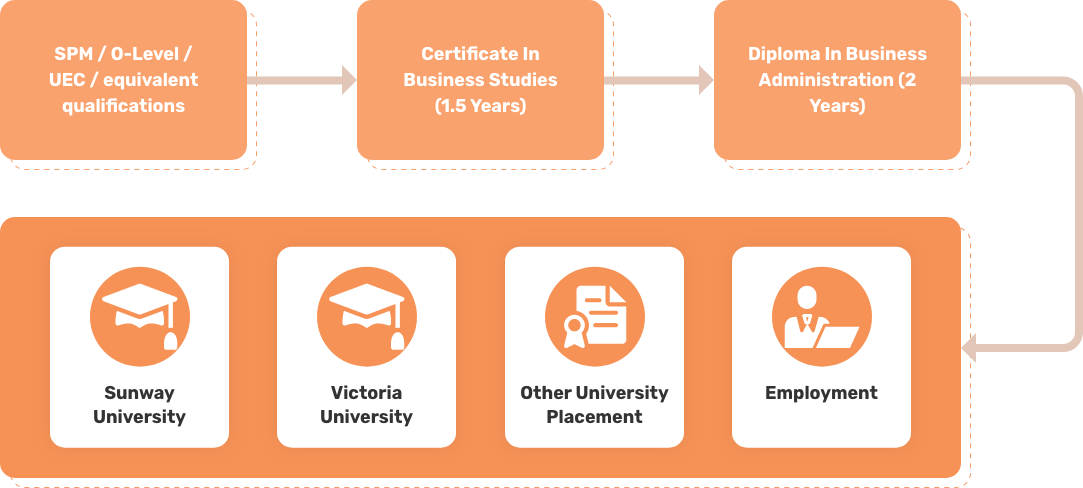 For admissions enquiry, contact our education counsellors