Intakes
January, April and August
The Diploma in Interactive New Media (DINM) at Sunway College has been designed to expand students' creative potential through the combination of theory and practical work in many aspects of new media where students will be taught the conceptual development and production of media content, equipping them with the skills, knowledge and attitude required to provide graphic design and interactive solutions. 
Apart from basic Communication and New Media subjects, students will learn about and practice to use design and part of multimedia authoring tools such as Adobe applications (Flash, Photoshop, Illustrator, etc) to edit various forms of media accordingly to create multimedia presentation, graphic design, websites, short videos and films, and many other interactive applications.
DINM also educates and equips students to acquire the skills necessary to communicate ideas and stories over different media. Graduates of the programme will be qualified to attain and excel in entry-level positions in the digital media industry. Excellent choice for creative people who are interested in designing, manipulating, and composing design elements (text, image, video, audio, and animation) to produce a new graphic design, production,
The Diploma in Interactive New Media (DINM) at Sunway College provides an entry into the BA (Hons) in Communication and BA (Hons) in Advertising and Branding at Sunway University upon meeting Sunway University's requirements.
Entry Requirements
SPM / O-Level
Pass with minimum 3 credits including English
UEC
Pass with a minimum of 3 subjects of Grade B including English
Other Qualifications
Any other equivalent qualifications accredited by MQA
Programme Structure
Advertising
Principles of Advertising and Design
Advertising and Promotion
Emerging Trends in Advertising
Public Relations, Corporate Communication
Interpersonal Communication
Principles of Corporate Communication
Intercultural Communication
Principles of Public Relations
Persuasive Communication
Organisation Communication
Media, Culture and Society
Media Planning and Management
Broadcasting
Modern Electronic Media
Audio Video Production
New Media & Design
Fundamental of Web Design
Graphic Communication
New Media and Communication Technology
Publication and Production Design
Audience Analysis for New Media
Contemporary Issues in Digital Conten
Strategic Communication in Crisis Management
Communication
Introduction to Mass Communication
Communication Theory and Practice
Communication Law and Ethics
Journalism
Writing for Mass Media
Print and New Media Editing
Internship
General Studies Subjects
Malaysian and International students are required to pass the MOHE General Studies subjects
For Local students:
Malaysian Studies 2
Creativity & Innovative Thinking Skills
Moral Education / Islamic Studies
Community Service
Bahasa Kebangsaan A (applicable to students who did not sit for SPM or did not obtain a Credit in SPM Bahasa Melayu)
For International students:
Bahasa Melayu Komunikasi 1
Creativity & Innovative Thinking Skills
Moral Education
Community Service
Progression Pathway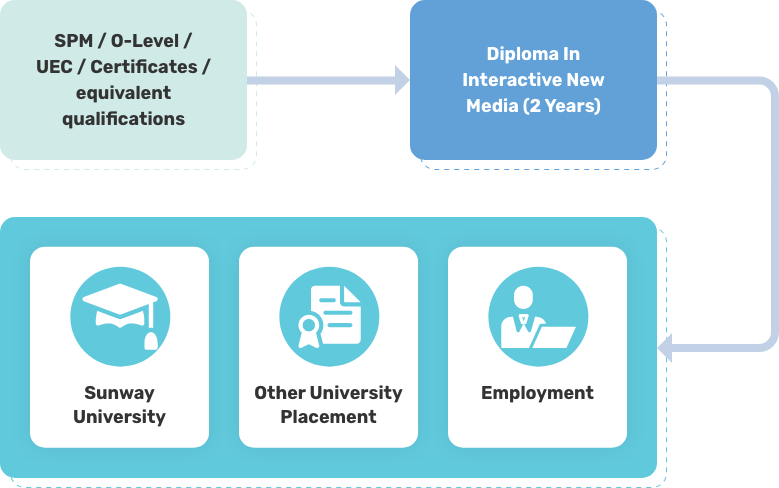 Career Prospects
Upon successful completion of this programme a variety of job options could include;
Advertising Designer
Brand & Corporate
Communication
Customer Relation, Promotion & Marketing
Graphic Designer
Media Planner & Event Crew
Multimedia Design & Development
Production Crew
Visual & Interactive Media Designer
Web & Media Social Executive
Web Editor & Writer
For admissions enquiry, contact our education counsellors
Explore Other Programmes