Intakes
January, April and August
The Diploma in Business Administration (DBA) programme at Sunway College provides students with a broad understanding of general business principles and practices.  The programme equips students with administrative and organisational skills to become efficient and effective administrators.  The programme also aims to equip students with relevant knowledge and key business skills to deal effectively in a rapidly changing business environment.
The programme curriculum offers various innovative approaches to learning including seminars, expert guest speakers, case analyses, online business simulations, external consulting projects, and experiential excursions.
The DBA programme provides a solid foundation in general business for undergraduate degree in Business Administration or related areas.  DBA provides an entry into the BA (Hons) Entrepreneurship, BSc (Hons) in Accounting and Finance, BSc (Hons) Business Management, BSc (Hons) Business Studies, BSc (Hons) Global Supply Chain Management, BSc (Hons) in International Business and BSc (Hons) Marketing at Sunway University.
 
Entry Requirements
SPM / O-Level
Pass with a minimum of 3 credits
UEC
Pass with a minimum of 3 subjects of Grade B
Other Qualifications
Any other equivalent qualifications accredited by MQA
Programme Structure
Management & Law
Principles of Management
Introduction to Business
Human Resource Management
Organisation Behaviour
Introduction to International Business
Entrepreneurship
Operation Management
Introduction to Law
Business Law
Marketing & IT
Principles of Marketing
Advertising and Promotion
Professional Sales
Introduction to Information Technology
E-commerce Theory and Application
Accounting & Finance
Introduction to Financial Accounting
Cost Accounting
Principles of Business Finance I
Introduction to Financial Management
Principles of Business Finance II
Economics & Mathematics
Principles of Microeconomics
Principles of Macroeconomics
Business Mathematics
Business Statistics
General Studies Subjects
Malaysian and International students are required to pass the MOHE General Studies subjects
For Local students:
Malaysian Studies 2
Creativity & Innovative Thinking Skills
Moral Education / Islamic Studies
Community Service
Bahasa Kebangsaan A (applicable to students who did not sit for SPM or did not obtain a Credit in SPM Bahasa Melayu)
For International students:
Bahasa Melayu Komunikasi 1
Creativity & Innovative Thinking Skills
Moral Education
Community Service
Soft Skills Subjects
Business English I
Business English II
Progression Pathway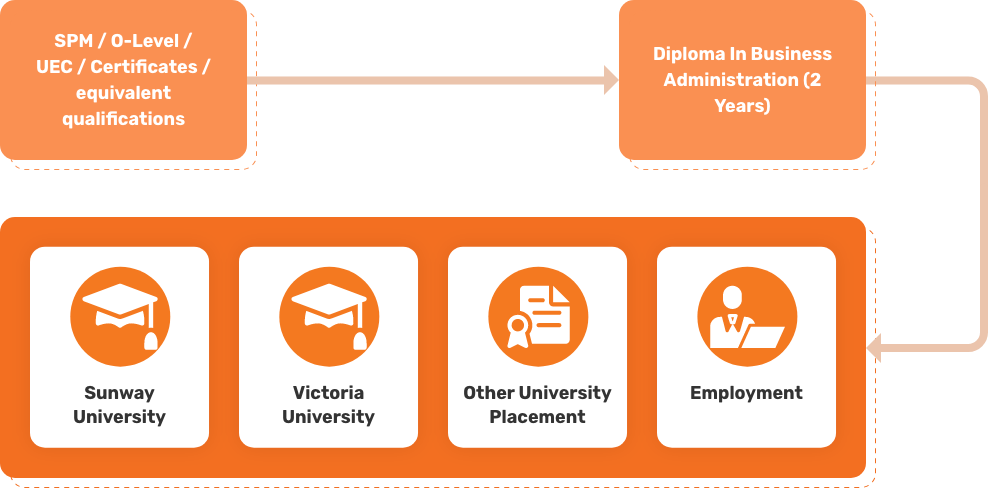 Career Prospects
Upon successful completion of this programme a variety of job options could include;
Banking & Finance
Human Resources
IT Management & Business Analysis
Manufacturing
Product Development
For admissions enquiry, contact our education counsellors
Explore Other Programmes