Professor Dato' (Dr) Elizabeth Lee
Chief Executive Officer, Sunway Education Group
A Leader in Education
Elizabeth Lee Fuh Yen is the Group CEO of Sunway Education Group (SEG), one of Malaysia's largest and most prominent education establishments. Under her leadership since 1992, SEG has grown from just one institution into a dynamic group of 20 entities which include two Sunway International Schools (Kuala Lumpur and Johor), four Sunway Colleges (Kuala Lumpur, Ipoh, Johor, and Kuching), and the flagship Sunway University. SEG also hosts leading research, development and training centres involved in sustainability, leadership and strategy, technology, and global competitiveness. This includes the Jeffrey Sachs Center on Sustainable Development, the Sunway Centre on Planetary Health, and 42KL (a free coding-school). SEG is currently home to more than 20,000 students from over 90 nations worldwide.
An Educator's Journey
Becoming an educator had always been Elizabeth's childhood fascination but she didn't embrace the ambition until after her A-Levels. She is an alumna of the famous Bukit Bintang Girls School, Kuala Lumpur, Malaysia, where her classmates of various socio-economic backgrounds impressed upon her the need for social inclusion and the richness of diversity. This led her pursuit as she was educated in the United Kingdom specialising in Multi-Cultural Education, which back then was a rapidly emerging area of knowledge encompassing educational strategies to assist teachers in dealing with changing global student demographics (and it remains ever so relevant today).
After her first degree in London, Elizabeth read her Master of Philosophy (MPhil) in Education at the University of Cambridge specialising in psycholinguistics. Her Cambridge links also sees her actively involved with the Oxford and Cambridge Society of Malaysia of which she is a past-President.
Upon her return home to Malaysia in the mid-1980s, Elizabeth dedicated herself to the field of education, first as a teacher, and rapidly promoted to principal of a private 6th form college, and then (until today), the Group CEO of SEG.
Elizabeth's Twitter bio reads "Simply, a teacher at heart" – a perspective which has remained unchanged throughout her career. This mantra has guided Elizabeth in her transformative approach at the Sunway Education Group, namely, that anything done has to be in the best interest of the students.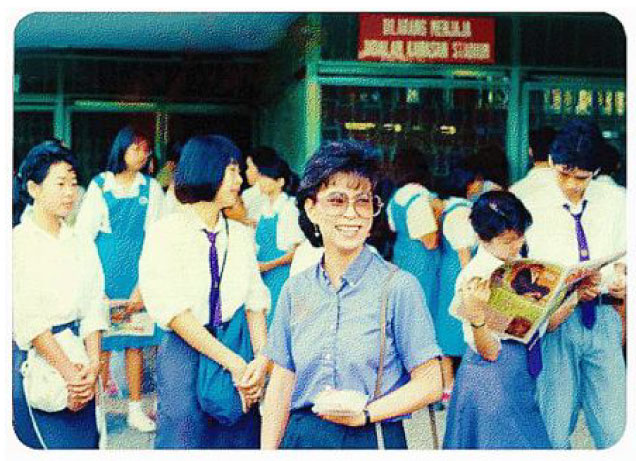 Elizabeth accompanying her students on a school trip in 1987
Transforming the Education Landscape
Her philosophy in education lies with the idea that "one does not have to be a world leader to change the world, rather, one can be the force to shape leaders of tomorrow from the very classrooms which are intended to nurture such leaders". Elizabeth believes that it is the knowledge shared with the youth today that will be the legacy they take with them towards building the future.
Elizabeth's years with Sunway Education Group witnessed many international partnerships forged with top institutions and professional bodies from the United Kingdom, Australia, and more. Private Higher Education was a novelty at the time, and the start of what would become a vital transnational education (TNE) sector. It also saw the immense growth of 'twinning degree programmes', which provided global yet affordable education access to students from all walks of life.
As the partnerships developed and the industry matured, she also ensured that the links forged would enable Sunway Education Group's own academics and researchers to learn from best practices and be empowered. Over time, this resulted in the creation of many high-value home-grown academic programmes, which was a big factor in enabling Sunway Education Group to set-up a full university, namely Sunway University, in 2011.One of Sunway University's key partnerships have been with Lancaster University, UK, which celebrated its 15th anniversary in 2022. The partnership which started off as a teaching and dual-degree awarding endeavour for undergraduate students, has developed dynamically as it now entails research, staff and student exchanges and more.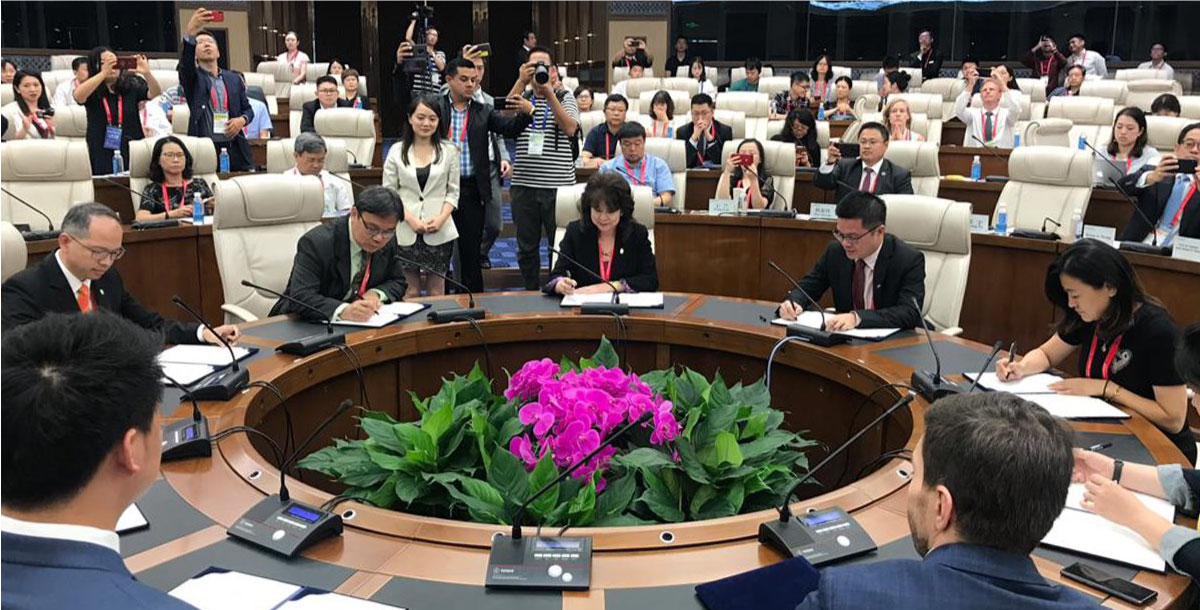 MoU signing between Sunway Education Group and Alibaba Business School
Today, the partnerships Sunway Education Group have forged with top global institutions go beyond the classroom and into high-impact scientific and medical research, UN Sustainable Development Goals and academic staff and student mobility opportunities. Beyond that, the Sunway Education Group has embarked on partnerships with organisations involved in the future of education and new learning (as well as accreditation) models, in recognition of technology's role in this rapidly evolving sector.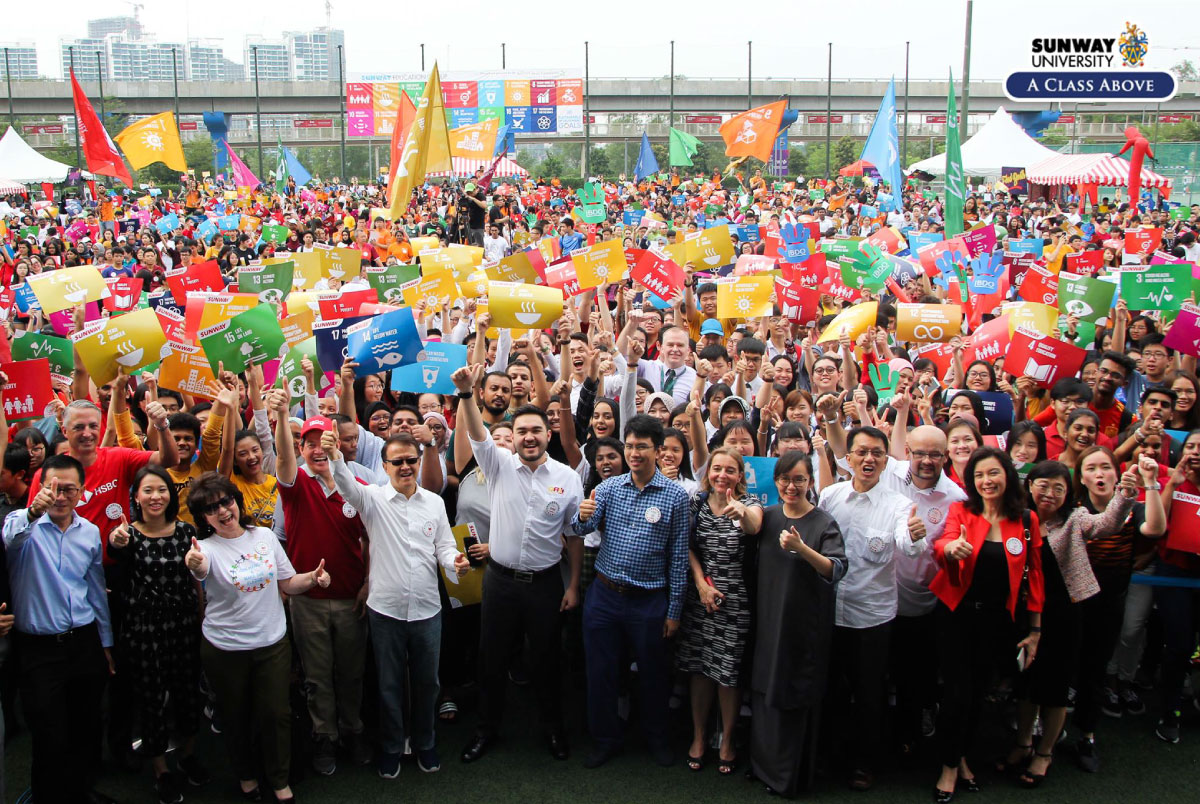 Elizabeth (third from the left) with Tan Sri Dr Jeffrey Cheah - Founder and Chairman, Sunway Group and Tengku Amir Shah (fifth and sixth from the left) along with dignitaries lead over 8000 people to celebrate the Join Hands and Make The Pledge - an annual UN SDG event held at Sunway University
Contributions, Recognition & Impact
A thought-leader in the field of private higher education provision, Elizabeth's role in policy-direction has been recognised by the government. She has served on the board of advisors of the National Higher Education Research Institute (IPPTN), a think tank under the auspices of the Ministry of Higher Education Malaysia. She is a former member of the Malaysian Qualifications Agency (MQA) Council, having completed the maximum six-year term where she chaired the MQA Audit Committee, Investment Committee, and Senior Staff Promotion Committee while also serving as a member of the MQA Disciplinary Committee.
Beyond the education ecosystem, Elizabeth actively contributes to various social endeavours, NGOs as well as humanitarian causes. Elizabeth is currently on the Board of Trustees of MERCY Malaysia (Medical Relief Society Malaysia), an internationally renowned humanitarian organisation where she provides advice and support on widening access to quality education for those in need. She is also the sole Asian representative on the Going Global Partners Group (GGPG) under the British Council, and is alternate Chair of the 30% Club, a movement to increase women participation in public company boards, as well as the Razak School of Government (RSOG), a government-owned leadership development and training think tank.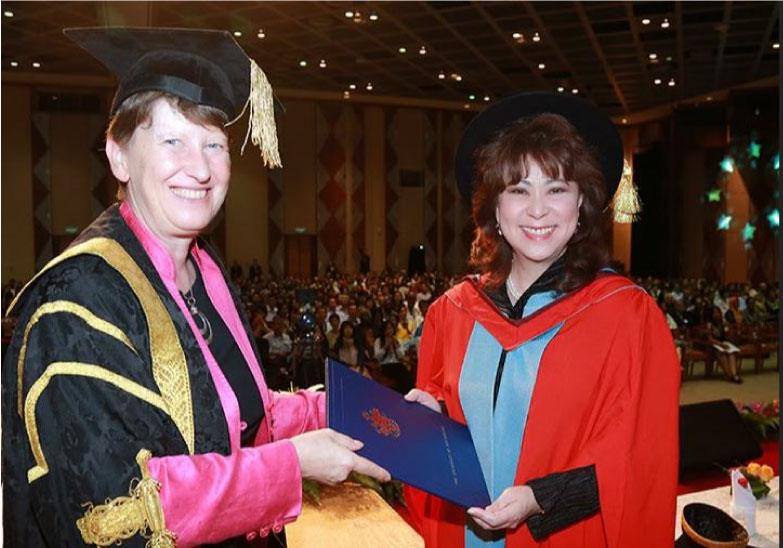 Elizabeth receiving Doctor of Laws (Honoris Causa) from Professor Christine Thelma OBE awarded by the University of Nottingham for her contributions to the growth of private Higher Education in Malaysia.
Internationally, Elizabeth has been invited to speak at renowned-universities including Harvard Business School, University of Cambridge, University of Oxford, and University of Edinburgh. In 2021, she shared her views on Sunway's sustainability journey at the 1st Cloud-Based University Development Conference hosted by the prestigious Chinese Association of Higher Education (CAHE). Most recently, Elizabeth address educators at the 2022 Going Global Asia Pacific Conference in Singapore. Notwithstanding her many international engagements, her most favourite events, in fact, are those with Sunway's students, and she's often seen spending time with them across Sunway Education Group's many institutions.
In August 2014, Elizabeth was conferred the Doctor of Laws (Honoris Causa) by the University of Nottingham for her contributions to the growth of education in Malaysia, especially in internationalising the landscape. In 2016, she received a second honorary doctorate by Victoria University in recognition for her role as a distinguished educator and her pivotal part in establishing the partnership between Victoria University of Australia and the Sunway Education Group – which begun in 1994 and remains strong till today.
In November 2022, Elizabeth was bestowed with the state title of Dato' by His Royal Highness Sultan Nazrin Shah, the Sultan of Perak and Deputy King of Malaysia, in recognition of her many contributions to the nation, especially in the field of education, women empowerment, and leadership.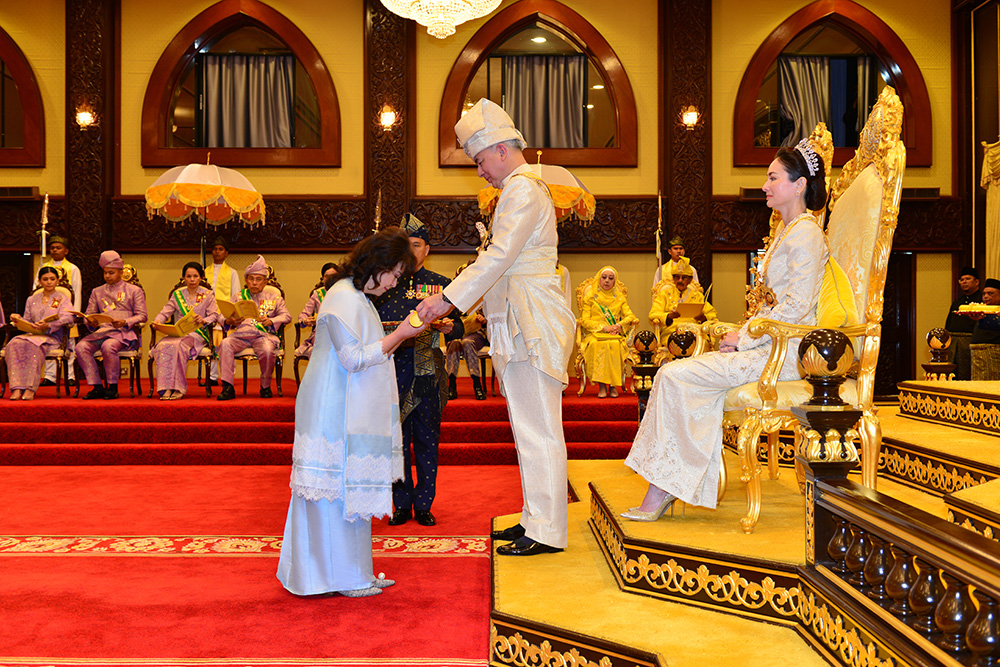 Elizabeth receiving her State title award from Sultan Nazrin Shah, the Sultan of Perak
Family & Future
Elizabeth takes great pride in being a mother, wife and a daughter. In her personal capacity, Elizabeth has written and edited a number of children's English storybooks for early language learning.
With more than 30 years of experience tucked under her belt, Elizabeth's passion for education burns strong. To keep nurturing the teacher at heart, she prioritises on continuing to ensure education remains accessible for all through the Sunway Education Group and the Jeffrey Cheah Foundation, championing the UN Sustainable Development Goals, as well as harnessing technology in empowering students for the future.
Elizabeth always reminds her colleagues at SEG that education is about "nurturing, empowering, and educating students to be humble and have a charitable heart, to strive to give back to society what they have gained".
List of Selected Awards & Honours (From Most Recent)
State title of Dato' – conferred by His Royal Highness Sultan Nazrin Shah, the Sultan of Perak - 2022
Leadership Commitment for Malaysia – awarded by UN Women Regional Office for Asia and the Pacific-Women's Empowerment Principles (WEP) - 2021
Educationist of the Year – awarded by Sin Chew Education Awards – 2019
Education Leadership Award – by the World Education Congress Awards in Mumbai – 2018
Malaysian Chinese Women of Excellence Award – by Wanita MCA – 2017
Women Entrepreneur in Canadian Education – awarded by the Malaysia Canada Business Council (MCBC) - 2017
Doctor of the University (Honoris Causa) – awarded by Victoria University – 2016
Visionary Women Leadership Award – by World Women Leadership Congress and Award (WWLCA) – 2015
Malaysia Most Impactful Leadership Contribution Award – by the Asia Success Inc. – 2014
Doctor of Laws (Honoris Causa) - awarded by the University of Nottingham – 2014
Outstanding Asian Women Community Contribution Award – by the Malaysia Women's Career Building Association – 2011